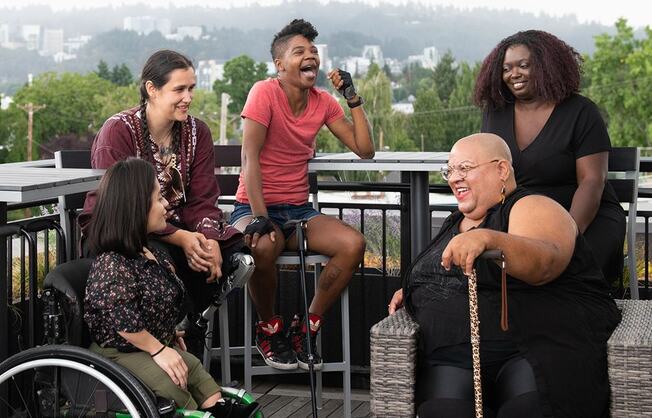 The Americans with Disabilities Act (ADA) protects people with disabilities from discrimination.
Disability rights are civil rights. From voting to parking, the ADA is a law that protects people with disabilities in many areas of public life.
New on ADA.gov
Explore the new content we've added to ADA.gov
This document discusses and explains the requirements of the ADA's integration mandate and the Supreme Court's decision in Olmstead v. L.C. ex rel. Zimring, 527 U.S. 581 (1999), as applied to segregated employment settings and facility-based day programs. In addition, this document provides a link to the Department's Federal Register notice, which provides more information about this guidance.
What's on ADA.gov
From answers to common questions to official legal documents, ADA.gov has everything you need to understand your rights and responsibilities under the ADA.
Topics
These overviews are a basic starting point for understanding areas the ADA covers.
Examples:
Resources
Get more detailed guidance on some ADA topics.
Examples:
Laws & Regulations
Find legal documents that are enforceable under the ADA in a court of law.
Examples:
Service Animals and the ADA
Understand how the ADA defines a service animal and what your rights are under the law.
Topics
Information for people with disabilities, state and local governments, and businesses
How to Report a Disability Rights Violation
If you believe that you or someone else experienced unlawful discrimination, you can report a disability rights violation.
Report using our online form.
By completing the online form, you can provide the details we need to understand what happened. You will receive a confirmation number and your report is immediately sent to our staff for review.
We review your report.
Teams that specialize in handling your type of issue will review it. If it needs to be forwarded to another team or agency, we will try to connect your complaint to the right group.
We determine next steps and get back to you.
Possible outcomes include: following up for more information, starting a mediation or investigation, directing you to another organization for further help, or informing you that we cannot help.